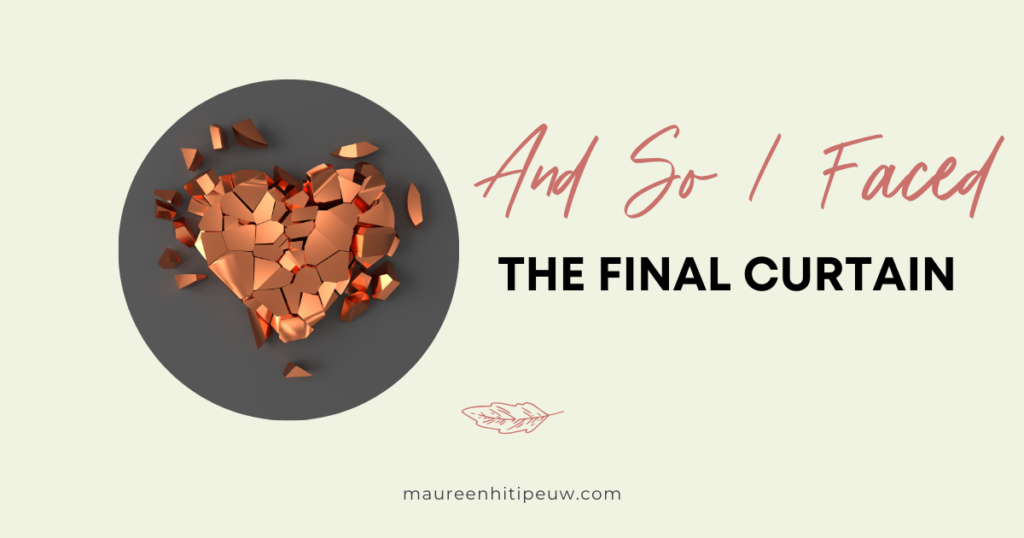 "At the beginning I never saw the end. At the start I saw forever."  – According To Jewels
When I pushed you away because I didn't know I had postpartum depression and lashed it all out on you – was that the end?
When I left you in anger because you decided to move to the other side of the world without properly having your family, your wife, and your sons sponsored by the company – was that the end? 
When I came to find you have changed a whole lot. To see that wall you had built standing tall, impenetrable with me banging hard from the outside but your once bright green-eyed glanced coldly – was that the end?
When red flags scattered all over what suppose to be our home in a faraway land screaming to my face but you brutally shoot down and twisted around so I thought it was all in my head – was that the end?
When you decided to stay for a couple of months instead of coming to your family, your wife and son claiming you were job hunting, when in my guts I KNEW something was very wrong with that – was that the end?
When you secretly checked your heavily guarded mobile phone or sneaked away to maybe make a quick phone call when I put OUR son to bed at night – was that the end?
When you left for weeks on business trips and I found yet more shreds of evidence screaming out loud but again you turned the table and made me question myself. Made me decide to swallow it all up, and made me try even harder to win you back from whatever forces out there sabotaging you. When I tried to forgive but it was not enough to make it all okay – was that the end?
When we pretend to be one hell of a happy family with fake smiles plastered to our faces while we both know we have become strangers to one another. When we are playing house in the ruin of us.  When the easy silence between us was no longer easy, it was just a coping mechanism from your checked-out self and I got deeper into bitterness from being invisible in your eyes. When kisses were nothing more than dutiful gestures. When I plunge myself to paint a rosy life on this blog because in writing we were a happy family – was that the end?
When I saw those faces of happy smiles…but it didn't bear my face. When I read those lines that were MINE for years being directed to someone else. When I finally had enough guts to walk out just two days after my birthday – was that the end?
When we sat by the marriage counselor's office, me sobbing like crazy and you calmly denies every single thing. When you nodded in agreement to the suggestions the counselor gave but never follow through – was that the end?
When she was witnessed in the place that was OURS just days after I moved out while I rocked myself in the corner of my hell feeling the world as I know it had come crashing down on me. When clearly you are still going strong – was that the end?
When you bluntly refused to let me come home saying you're not ready while I wanted to slap you hard as you were not in a position to call the shots and I was damn tired of your mind games. When I finally decided to pick up the rest of my stuff which by the way you had neatly packed in boxes – was that the end?
When I tried to return the engagement ring and you refused then grabbed my hand to pull me into your arms while saying "Let me fix this…" For a nanosecond, I saw YOU, the man I thought I will have no end with. My bruised brokenhearted self wanted to believe you but I just can't anymore. It was the straw that broke the camel's back…- was that the end?
When I finally accepted that I cannot change you but I can change the way I respond to you and your words. When I cried myself to sleep for weeks when pain turned into numbness when I know I had to give up the fight of that losing battle. I know for sure that the end was narrowing down on me, on us.
We never said our goodbyes but the end is there all along even when I had tried and tried to blind myself. I finally set you free…and accepted that our story has come to its closure and I learned to accept that the END doesn't mean my whole world has to end as well.
This post has been inspired by the Studio 30 Plus writing prompt – THE END.
PS: I submitted this blog post to Just Be Enough link up this week. Head over there to read really inspiring and uplifting posts. Thanks, Elena from Ciao Mom who created this amazing place for everyone!  My marriage ended almost 2 years ago and blogging through it has definitely helped a lot.